MEDIA RELEASE
11 DECEMBER 2020
GLOBAL DAY OF ACTION – "IGNORING THE CLIMATE CRISIS IS A HUMAN RIGHTS VIOLATION!" SAY SA ENVIRO DEFENDERS
"This year has been a complete right-off for climate action and a massive knock for the people, especially the youth, of this country! We are in a race against time to keep temperatures well-below 2 degrees or stabilise at 1.5°C degrees, and as it stands, current levels of warming has already resulted in human rights' violations." So says Researcher at Earthlife Africa Johannesburg Bongiwe Matsoha, as the environmental justice organisation take to the streets in a Global Day of Action against climate change, this International Human Rights Day.
According to Matsoha, Earthlife is taking this opportunity to draw attention to the lack of climate action in the wake of CoVid-19. The lockdown made it difficult to gather or meet, and all organising and communications were moved online. This placed the many South Africans, who are not connected, at a massive disadvantage. CoVid safety measures also meant that COP26 – the premiere event for understanding the global approach to the climate crisis, and for advocating for appropriate mitigation, adaptation and other measures – was postponed by a year. This has also delayed submissions for Nationally Determined Contributions (NDCs), which has now extended until the next COP, scheduled for November 2021. These NDCs are meant to communicate countries' increased climate action plans.
On 10 December, Earthlife joined hundreds of environmental defenders from Limpopo and Eastern Cape and Gauteng, who took to the streets of Johannesburg in a march that started at Standard Bank (one of the largest oil and gas funders in sub-Saharan Africa), then headed to BHP (responsible for intense carbon emissions and energy intensive users with special pricing agreements for their energy). The third stop was the Gauteng Legislature, to demand environmental justice on climate change, and the march will conclude at the Constitutional Court, to remind the Court about Section 24 in the Bill of Rights which advocates environmental protection.
Matsoha says, "Living in a country where around a third of our youth is unemployed, I am very concerned that the South African government has failed to intensify its efforts to ward off a global climate catastrophe. Not only are they ignoring the immense employment opportunities that come from switching to renewable energy, but climate scientists give us less than a decade to half our global emissions, by 2030. This failure by governments to respond to the climate crisis represents a violation of our human rights, especially if we consider that climate change will disproportionately affect the poor and most vulnerable in our society."
She says that governments must introduce appropriate policies and measures, especially emerging out of the pandemic, to help put the world on the path to a low-carbon and resilient future – in ways that respect, protect and fulfil human rights. She says, "These policies should include transformative change. Governments the world over, need to rethink our economic, social and political systems in order to address the inequalities. That is why we demand justice for individuals and communities whose rights are affected by the climate crisis or lack of climate action."
According to Earthlife's Director Makoma Lekalakala, "Despite South Africa's repeated declarations to address climate change, our government is still proposing further exploitation of coal, oil and gas. Not only will these actions aggravate the climate situation, but it will lock the country into a treacherous carbon-intense future. This is not the appropriate response to the climate crisis. We need more radical action that involves the complete phasing-out of fossil fuels, supported by the uptake of low carbon technologies."
Says Lekalakala, "By hanging on to fossil fuels, many communities around South Africa remain targets for fossil fuel exploitation projects. These continue to pose a huge risk for the people who defend their communities and environment, and who do not want it. Take, for example, Mam Fikile Ntshangase and Bazooka Radebe, they were killed in the heat of contested fossil fuel projects, and their murderers are still on the loose, and sadly, there is no urgency from authorities to get justice for them."
"Globally, this is an extremely concerning trend, which also includes gender-based violence, threats, harassment, and the criminalisation of environmental human rights defenders, at a time that we should be acknowledging the important role they play in strengthening policy-making, accessing rights, and campaigning for sustainable development. This is why Earthlife remains committed to supporting all environmental human rights defenders, especially those who protect their livelihoods and communities from destructive activities," she says.
"States are supposed to act in the best interest of the people. We want to see them put people – including indigenous peoples – and the environments they rely on, before profit. Our governments must recognise and respect our rights to thrive as part of nature. This would mean stricter measures and restrictions on corporations, making sure they are accountable for their emissions, rather than looking the other way and being complicit. The 'polluter must pay principle' must be put into effect, with more stringent emission controls, such as with Minimum Emission Standards (MES) or the Carbon Tax," adds Lekalakala.
"If the South African government does not take urgent and decisive action now, they will be responsible for making the lives of our people, especially those who are most vulnerable, even more challenging. At this stage, it is about survival and we need our governments to start doing right by the people," she says.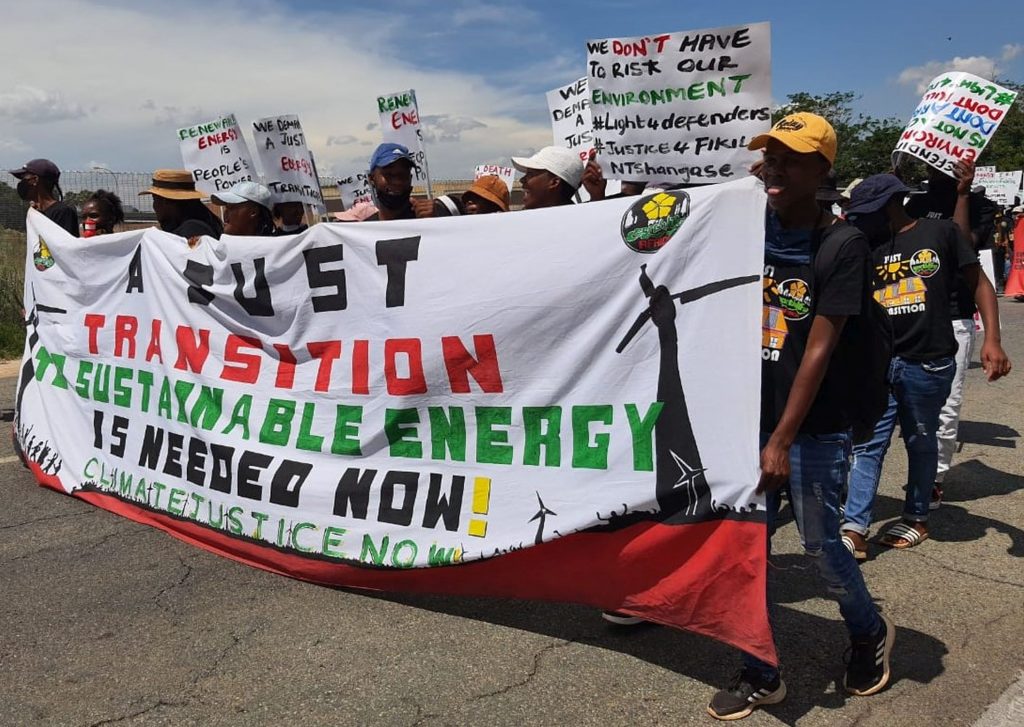 "However, addressing the climate crisis must be a team effort, both at the micro and macro levels. No one country can address climate change effectively on its own, just like no country can face the climate crisis without the political will and the support of its people on the ground. We all need to play our part. From those who are living in excess and who now have to be more considerate, to the uncelebrated waste-pickers who turn our garbage into a livelihood," concludes Lekalakala.
###
What is COP26? A Conference of the Parties, attended by countries that signed the United Nations Framework Convention on Climate Change (UNFCCC) – a treaty agreed in 1994. 2020 would have been its 26th meeting.